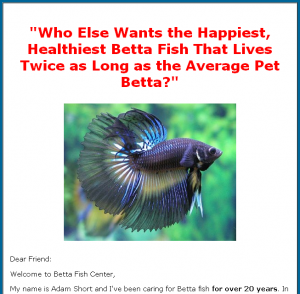 I recently heard about a guy named Adam Short from a podcast on Yaro Starak's Entrepreneur's Journey blog. He runs over 90 websites selling ebooks in very specific niches.
One of the websites he mentioned in the podcast was http://bettafishcenter.com/
If you take a look at the website, it isn't selling anything. It is only giving away his Free "Betta Fish Secrets" Email Course! If you look at the signup form, he asks for your Betta fish's name: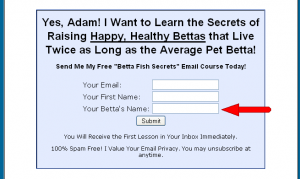 He personalizes the emails, not only with your name, but your Betta's name as well (brilliant!):
"Hi John,

Caring for betta fish can be easy and
fun…if you know the right way to do it.

For instance, you know how beautiful and
healthy Charlie looked when you first
got him?

Believe it or not, he can ALWAYS look
that way if you set up his tank properly."
He uses Aweber for his mailing list, so he can set up a sequence of follow-up emails. Once you sign up, you're sent a series of emails with helpful Betta Fish Tips. They are not hard sell, but include helpful hints, and a link to a page where he will reveal his entire Betta Care System for you. He lets the autoresponder do all of the heavy lifting.
Sign up for his Betta Fish Secrets Course. Take a look at how he weaves helpful information in with subtle sales messages. Think about how you could use this same model to get your customers buying more and more often from you!
Adam gets his traffic using article marketing, and lets the autoresponder do the selling. Totally hand-off. Adam and his partner Alen have developed a course teaching people how to do what they do called Niche Profit Classroom. I joined last week, and I'm totally floored. It's got tons of video lessons teaching you exactly how they do it all. I'm only part way through the training, and I'm impressed.