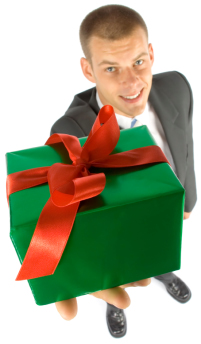 Try using a "holiday" that relates to your business.
I posted this on my Twitter account, but I though I'd add a few nuggets here.
Here are some "observances" you can use for January:
Financial Planners: Financial Wellness Month
Computer Repair: National Clean Up Your Computer Month
Eye Doctor: National Glaucoma Awareness Month
Book Store: Book Blitz Month
Get to Know Your Customers Day: 15 – send them an email with a survey (and a discount)
Women in Blue Jeans Day: 15-16 – second hand shop – sale on all blue jeans!
Nothing Day: 16 – buy 1 get 1 for NOTHING!
Camcorder Day: 20 – 20% off all camcorders, today only!
Answer Your Cats Questions Day: 22 – pet store – bring your cat in for a special psychic reading!
Belly Laugh Day: 24 – video store – all comedy DVD's half off!
National Peanut Brittle Day: 26 – buy an item over $20, get a free box of peanut brittle ($ store brand OK)
Bubble Wrap Appreciation Day: 26 – come in and pop with us!
Fun at Work Day: 30 – send them an email with a link to a funny video you've posted to youtube, at the end of the video tell them the word of the day. If they come to your store, they get 30% off!
I didn't make any of these up. These are courtesy of the fine folks at: http://www.brownielocks.com/month2.html